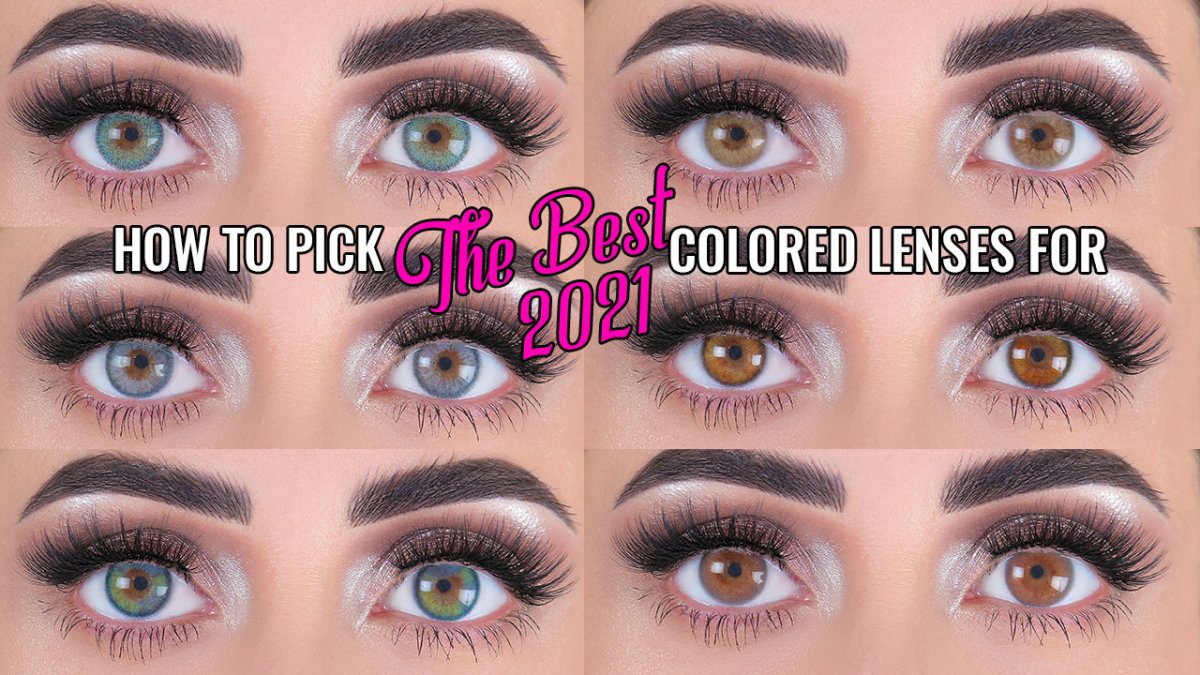 2020 proved to be pretty rough, and left little room for new trends to pop-up. However, let's take 2021 as a fresh new start and hope for the best trends to pop-up.
A year better than 2020 surely deserves even better makeup trends. As you prepare for a New Year look, you may find yourself wondering what eye-look to go for. What are the newest, latest trends?
How to pick the best eye color for 2021?
The bad news is, diving blind-sightedly into what color to opt for can prove to be a tedious mammoth task. And, you can never be sure, can you?
Well, the good news is, we've taken care of your worries! We did our research and have compiled it here in a short n snappy manner. But before we talk about how to pick the best colors for your eyes, let's have a quick look at the best eye-colors for 2021.
Eye-colors that make you go, oofhh? Yes, we're completely down for those! Like their name, the exotic grey lenses give you an exotic, hot look. They are designed to add dimension and perspective to your eyes, thus, enhancing the look with a ring and grainy effect. Trust us when we say, they're the perfect shade of grey for 2021.
Back in the green bandwagon again! The Smokey Greyyen is a part of Otaku's signature series. A three-toned color lens, Smokey Greyyen represents strength. 2020 gave us the strength and courage to deal with the worst (Yeah, you know it, we know it!). As we step into 2021, we're stronger and braver. Why not let your eye-color say that out loud for you? A beautiful blend of hazel, grey, and limbal ring, these lenses make you look hotter than ever!
The Waterfall Blue falls somewhere in between green and blue, giving your eyes the true color of a waterfall. They give your eyes a deep and rich look, enhancing the overall look. It's just the sort of eye-color, which makes you want to keep staring into them until you're lost completely. It gives you a graceful and elegant look. Waterfall Blue is a great shade for when you want to step a little out of the normal, and give your eyes a quick transformation.
If you're looking for something in the green bandwagon, this Iris Brown Hazel might just be what you need. A beautifully striking color, the Iris Brown Hazel gives you a perfect shade of hazel brown with a hint of green. For le brunch or other day-time events, this one deems ideal — it's more to the natural-color shade type.
A mix of blue and grey colors, the Human Iris Blue Grey color leaves everyone mesmerized. An intense and charismatic color, it gives you a dazzling look, and is perfect for night events like a New Year's Party.
How To Pick
Most of us ladies have dark brown eyes—that's what studies say. While dark brown eyes are pretty on their own, honestly, our natural colors get a little boring sometimes. Thus, we switch to colored lenses, and the right ones never disappoint!
For 2021, subtle eye colors are the trend. If you decide from the color ranges of hazel, grey, and blue, you're good to go. The best part is, they go with almost every outfit and every look! Consider what color will pop-up in a beautiful manner on your skin. The best part about our lenses is that they conveniently show up on dark colors unlike most offered in the market these days. If you're going in a night event, try sticking with grey or blue color ranges, and vice versa.
Are you ready for your eye-conic look on New Year's Eve and the days to come? Remember, you can always shift between any of the above-mentioned Otaku lenses, according to your preferences. We hope we helped you in choosing the best eye-color for 2021.
Have a blessed New Year!
Leave a comment